WORMING TO CLEAR THE CHALLENGE OF ENCYSTED SMALL REDWORM
It is important you consider the seasonal worming challenges when formulating your worm control plan.
Every horse should be tested or treated for encysted small redworm in late autumn or winter1,2,3. Make sure you time it right!
SELECT THE RIGHT WORMER
Remember to select the most appropriate wormer for the parasites you are targeting. Currently, only two active ingredients specifically target encysted small redworm − ask your vet or medicines prescriber for advice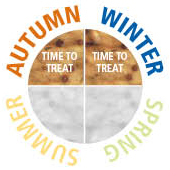 HORSE WEIGHT
Use a weigh tape or weigh scales to determine the weight of your horse. Horses should be dosed accurately, according to their weight. This is important because under-dosing can increase the risk of resistance development.
YOU CAN NEVER BE SURE OF A NEW HORSE'S WORM BURDEN
If their history is unknown they should be quarantined, FWEC tested on arrival at the yard and treated for encysted small redworm and tapeworm. They should then be stabled for at least 48 hours to avoid bringing resistant worms onto your premises.
References
1. Matthews JB. Equine Vet Edu 2008; 20(10): 552–560.
2. Nielsen MK. Vet Parasitol 2012; 185: 32–44.
3. www.austindavis.co.uk